Archive for the 'Horse Communication' Category
Klaus F Hempfling , like myself, uses energies, read cues to work with horses in an intuitive and non-aggressive way. He's based in Europe where he has a wide range of programming, for horses and humans!
Check out his website for more information on his work: http://www.hempfling.com/
In his words…
"The author of 'Dancing With Horses' teaches the principles of primal life, against the background of both the mythological and the real horse. He emphasizes the importance of totally honest self-assessment and self-knowledge and both mental and physical self-control, demonstrating how a misplaced or misunderstood feeling, glance, posture, attitude or movement can make the difference between success and failure in the relationship with a horse.'"
In this great video, a beautiful dance of healing relationship where man is working with the horse from the inside out.  Staying clear in his intention to be unconditional and accepting in whatever shows up in front of him.
Improving Your Horse's Balance
As a prey animal, your horse will feel uncomfortable unless he knows that he can move quickly and efficiently to escape from predators, regardless of the fact that he no longer lives in the wild. You can help your horse feel safe by helping his body stay supple and balanced over all four feet. For instance, take the time to correct your horse when he tries to push you around while you are on the ground, or when he leans around a corner under saddle. The indications may be subtle, but these small moments of being off balance can actually cause your horse to feel uncomfortable and unsafe. You can help your horse feel safe and secure with proper ground work and exercises under saddle that teach him to use his body in the balanced way. Eventually, your horse will begin to associate these good feelings with you, and will be well on his way to trusting you.
Controlling the Fight or Flight Instinct
Horses are easily frightened. If your horse becomes frightened and you allow his fear to escalate unchecked, he can easily become a danger to himself or others. A horse's natural fear response is to raise his head, drop his back, and tense his muscles in preparation for flight. In a natural setting, he would then run until he was out of danger, and then relax and resume grazing. You can actually use the last step of this instinctive sequence to diffuse your horse's fear response. When your horse becomes fearful, simply encourage him to lower his head. When a horse lowers his head and assumes the grazing posture, he automatically relaxes. With practice, you can teach your horse to lower his head on cue. More importantly, your horse will begin to associate you with this feeling of relaxation, another piece in the foundation of trust that you want to build with your horse.
The Foundation of Trust 
Training and riding skills are very important in working with horses, but at the end of the day nothing is more important than trust. It's important to spend time with your horse and get to know the different facets of his personality. However, time alone will not create trust. Unless you establish and continuously establish your position as leader, protector, and comforter, the time you spend with your horse will not necessarily result in trust. Ultimately, nothing is more important to the relationship than how your horse feels when he is with you.
About the Author
Madalyn Ward, DVM, owns Bear Creek Veterinary Clinic in Austin, Texas. She is certified in Veterinary Homeopathy and Equine Osteopathy. Memberships include American Veterinary Medical Association, American Association of Equine Practitioners, American Holistic Veterinary Medical Association, Texas Veterinay Medical Association and the Academy of Veterinary Homeopathy. She has authored several books and publishes the monthly newsletter, "Holistic Horsekeeping."
Trust and like are two very different qualities, especially when it comes to your horse. Many horses like but don't always trust their owners. Well-known horsemanship clinician Tom Dorrance feels that a horse's trust for his owner is the foundation of the relationship. If your horse doesn't trust you then his instinct for self-preservation will supersede everything else, which means that in a scary situation he will tend to react based on instinct rather than turning to you for guidance. This kind of lightning-fast reaction can easily injure you or your horse.
A horse's lack of trust can also show up in less volatile situations. A horse has three basic needs: to be cared for, protected, and comforted. Each time you fail to meet one of these needs your horse will feel that he is alone and that he can't trust you—a dangerous feeling for a herd animal. In response, you horse is likely to buddy up with other horses and may become barn sour or develop other behavioral issues. A horse with trust issues will often have digestive and immune system weaknesses. On the training front, not taking the time to build an initial foundation of trust can result in problems such as running through the bit, balking, rearing, or bucking.
So how do you develop this all-important foundation of trust with your horse? Unfortunately there is no simple answer. Luckily there are some good places to start including developing leadership skills, improving your horse's balance, and controlling your horse's fight or flight instinct.
Developing Your Leadership
When you develop a relationship with a horse you become a part of his herd, so it's important to establish yourself as the leader of that herd. A horse who is unsure of your leadership will continually test you. This testing could be as subtle as nudging you with his nose or as blatant as walking all over you. The question is whether you can pass the test. You may think you are being kind when you ignore your horse's attempts to invade your space, but in reality you are causing him to be unsure of his position in the herd. Correcting your horse when he invades your space is not about punishment but about giving clear and consistent direction about which kinds of behavior are acceptable and which are not. More sensitive horses will back off in response to light pressure while others will require a much stronger form of correction. The goal is to offer enough correction to prevent the horse from testing your leadership again; otherwise you are just nagging your horse and will have correct him over and over. Once your horse is clear about who is in charge, he will relax and begin to trust you.
About the Author
Madalyn Ward, DVM, owns Bear Creek Veterinary Clinic in Austin, Texas. She is certified in Veterinary Homeopathy and Equine Osteopathy. Memberships include American Veterinary Medical Association, American Association of Equine Practitioners, American Holistic Veterinary Medical Association, Texas Veterinay Medical Association and the Academy of Veterinary Homeopathy. She has authored several books and publishes the monthly newsletter, "Holistic Horsekeeping."
This is an article I read on www.teendrugabuse.org. We are starting a Youth program this year so I thought this was a good article to explain the work we do with the horses. Please visit www.unbridlingyourbrilliance.com for info on all the different types of programs we offer, not just for Youth.
Click here to read out our specialized Youth program called Youth with purpose…A new Kind of HorsepowerTM
————————————————————————————–
Horses Help Troubled Youth
Many youngsters exposed to abuse and trauma are turning to horses in order to confront their emotional issues. A horse doesn't judge you. A horse doesn't answer you back; it just listens, which is sometimes exactly what's needed. Horses have a way of getting kids to smile and let their guard down – something that may be difficult to achieve through a traditional therapy session – even with the help of a trained and experienced counselor.
Some teens express that certain types of therapy did not work for them. Whether it is because they have a hard time trusting, letting down their guard, or are just not ready to face their demons, traditional therapy is not for everyone. Horses can be a very calming force. They are very in-tune to Read the rest of this entry »
By Faye Birkin
Sometimes we as riders, lose sight of the concept of riding just because we love it.  We get stuck  in the rut of thinking that we always need to be doing something 'worthwhile' like schooling, training, working towards a showing event or sometimes even that awful 'obligatory feeling'  of having to ride because we feel bad that we haven't ridden enough and our horse needs to 'get out'.
I guarantee you that your horse doesn't care about all these reasons in the slightest.  The only thing he can really appreciate is when you spend quality one-on-one time with him.  No pressure, no expectations, no rules or preconceived ideas… just being one with him.
It is often during these un-structured, un-scheduled and un-forced moments, that the greatest Read the rest of this entry »
Today I stumbed across a wonderful video clip on YouTube that I simply have to share with you…Do enlarge the video window- this is worth seeing in Full Screen! (button in bottom right hand corner)
Scroll down below the clip to find out more about these beautiful horses and what they do!! There is also a 2nd clip right at the end of this article.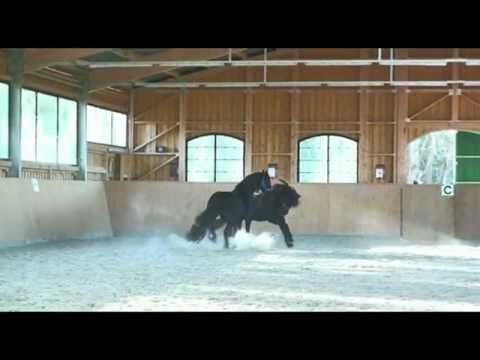 HORSE DREAM's Founders
HorseDream is a German based global working company, founded in 1996 by Gerhard and Karin Krebs at the Lake of Constance.
This following in an insert taken from www.horsedream.com and tells how HorseDream started… 
By : Gerhard and Karin Krebs
In 1999 we relocated to the middle of Odenwald, a low mountain range near Frankfurt. Since October 2008 we live and work at Gut Klein Nienhagen, close to the Baltic Sea.
With the assistance of our Friesian horses, we offer a regular schedule of open programs, private or corporate sessions can be booked at your convenience.
Gerhard: About our journey to HorseDream
Karin and I had been self-employed since 1983 in the IT-world, working around the clock. In 1989 we decided to go on a riding holiday. I was nearly 40 years old Read the rest of this entry »
This past weekend's workshop with world reknown animal Healer & Communicator, Magrit Coates, was a fantastic success. We spent 2 full days learning from Margrit's vast experience and wisdom. Our August newsletter will feature more information on how the weekend went, so today I want to focus and give a background on what exactly "healing" is…
*All information below is from Margrit Coates website www.thehorsehealer.com. Please visit her site from more information.
Horse Healing
What sort of horses need healing?
All horses can benefit from hands on healing and which you can give yourself. Any horse which has been traumatised in the past (for example through injury , accident, illness, bad handling, abuse, neglect etc) no matter how long ago, can benefit, as healing aims to restore balance top the energy field and discharge negative energy.
Disturbed energy can lead to disease and disorder and all physical illness will have an emotional element to it. Pain and stress are very upsetting for a horse and lead to, so-called, behavioural problems.
Healing and communication is not horse whispering – it is more powerful

Hands on healing, and communicating with horses, is not horse whispering because it works through unseen energies. Healing is a communication energy that you can connect with, which works deeply with your equine using soul language to rebalance and harmonise the energy field .
You can use healing energy for Read the rest of this entry »
Natural horsemanship works because it recognizes that it is easier for a horse to understand what we want them to do if we communicate to them in a language they already understand, rather than attempting to teach them our language.
is a method of teaching and interacting with horses based on trust, respect and communication, in a language the horse can understand, rather than using fear, intimidation and mechanical devices. Read the rest of this entry »
Written by Petra Webstein
Could there be possibly such a profound difference between horse people? What is it really that a knight applies to be with his horse?
If you are watching Klaus Ferdinand Hempfling, working with horses you quickly see and feel for yourself that there is something you can not quite put your finger on. It is intriguing, challenging but at the same time calling you forward to a place which most of us have only found in our dreams.
So really, what is it about this man with the name of Klaus Ferdinand Hempfling that truly sets him apart from the rest? Read the rest of this entry »
Just like us, our horses get unbalanced. The typical way of noticing this is to assess their physical
conformation or bio-mechanics, however I am referring to something much more powerful. I am referring to their emotions. By combining both Tellington-touch™, the work of Margrit Coates, Healing for Horses, Acupressure, and an intuitive sense of where these imbalances might be, it is amazing to see the incredible release that a horse can feel instantly.
Horses have an energy system just like us known as the Chakras, and just like us this system can become unbalanced and blocked. Blockages may present as aberrant emotions like anger, sadness, anxiety, lethargy – things you may not be used to seeing in your horse.Did you know that your horse's heart chakra actually has four distinct points? To locate the heart chakra, place one hand gently just behind the withers, and one hand on the front of the chest in the flesh part. You now have located a direct line between two of the points.
While gently standing with your horse, bend your knees slightly, soften your eyes, bring your shoulders down and allow your breath to flow into your belly. Say these words "I love you and I will always be with you. It is okay to release whatever you are carrying, whether mine or yours."
Horses are extremely empathic animals. They have a very strong and finely tuned sensing device. It is what has allowed them to still be with us after all these years. It keeps them safe. The down side of this sensing means that horses pick up things that humans miss.
Research tells us that horses see in pictures, and so the slightest change to the environment will be noticed by them. This may also be true for their ability to sense emotions. If we can keep ourselves balanced emotionally, we will be doing a world of good for our 4-legged friends.
Use the simple practice identified above, and you will see improvement both within yourself and your horse.
Give your horse the gift of healing today, and write back and let me know how it went (or even book a session with me so that I can help you learn how to do this most effectively on your own)
Here is what one person recently said about their Emotional Balancing Session I provided to their horse.
"Before Linda-Ann came to work with me and my horse, I was at a complete loss. I was experiencing a great deal of aggression and anxiety that was uncharacteristic of my horse, to the point where she was becoming unsafe. Linda-Ann easily deciphered what I can do to relieve the cause of this stress on her, but even more so she showed how I can change my life for the benefit of both us. As a fellow healer, I believe Linda-Ann's wisdom and intuition are inimitable, and are a huge benefit to anyone in the human or horse world." Katherine
Contact Linda-Ann@Passionforhorses.ca or call (604) 889-4452.
Linda-Ann Bowling
Master Intuitive Coach and Healer